A 'culture of indulgence' ? The explosion of bottled water into an industry worth over 15 billion in the US alone has had many of us asking..
Why IS it that each week, we fly, ship and drive more than 1 billion tonnes of water that's only a twist of a tap away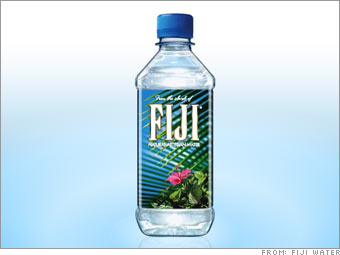 Will Fiji Water faithfuls continue to tolerate that beautiful idyllic image of its source being tarnished by ideas of polluted rivers overflowing with waste byproducts. In a world where we are often judged by what we consume, will bottled water still continue to be fashionably ordered at a cafe without friends gasping in horror, "You mean you haven't SEEN An Inconvenient Truth?".
Last year, Fiji Water, perhaps on fears that it might be losing customers to (shock and horror) tap water, announced that its operations were now carbon negative.
Yes, when you pick up a bottle of Fiji Water, you 'should' no longer feel like part of that ugly problem of climate change. In fact, that 1.5l bottle of water you're holding has just saved as much carbon as your decision to walk 5 blocks to the grocery instead of driving (you DID walk didn't you?).
Its a little tricky though, Fiji Water's factories did not just start absorbing all the carbon around them, neither have all of Fiji Water's trucks stopped emitting carbon.
They have achieved this dramatic '120% carbon offset' by investing in carbon negative projects like reforestation and renewable energy initiatives.
An example of one such project is the 'Forest Carbon Project' in the Yaqara Valley on the island of Viti Levu in Fiji. Partnering with Conservation International (CI), the project engages in native species restoration.
What is Forward Crediting?:
Step 1. Projects like the above have their cumulative 'carbon impact' for the next 30 years estimated.
Step 2. 30 years worth of carbon impact are immediately factored into Fiji Water's 2008 120% Carbon Offset
Immediate real reductions are also being reported:
- Trucking Miles (from Warehouses to Distributors) : Reduced by 26%
- Fuel Usage (from Plant to Port with Fuel Efficient Trucks): Reduced by 50%
- Packaging (1.5l bottle only): Reduced by 7%
- Waste Reduction (Landfill Use): Reduced by 70%
Maybe buying that 1.5l bottle of Fiji Water has not miraculously offset the carbon you generated driving to the supermarket, but at least, with full carbon footprint measurement (raw materials to consumption) and reporting, you now have a better idea of exactly how much carbon has been released to get a bottle into your hands.
From the initiative's website FijiGreen.com, you will also be able to discover that it is suppliers that are producing over 80% of your bottle's carbon emissions, not the guys at Fiji Water (you know and love?).
Now if only they could get safe drinking water to the 1/3 of Fijians who have no access to it.
For more bottled water facts: Pacific Institute on Bottled Water
For a blog that makes its stand clear: Don't drink Fiji Water